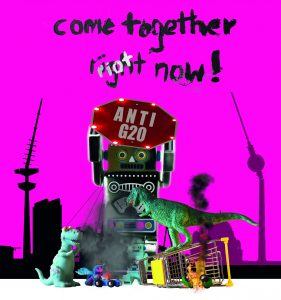 full-assemblies
Tue 30.5. & 20.6. || 19h || assembly-hall || Mehringhof || Gneisenaustr. 2a
Posters & Flyers can be found soon in every nice leftie location. lets get ready for action!
It's getting hoter! Just a few days remain until the meeting of the economically most powerful governments and their minions at the G20 summit from 6th till 8th of July in Hamburg. We want to invite you to get organized together in Berlin and be well informed and prepared before the spectacle takes place.
Tuesday || 30.05. || 19h
The focus of the 5th general assembly will be on the Berlin Actiondays from 2nd till 13th of June. The peak of which will be the protest against the G20 pre-conference for a "partnership with Africa". How are the preparations of the Berlin Actiondays going on and what can we learn from action trainings? How to organize against the strategies of the Pigs? This and many other things will be topic at this general assembly…
Also we will open our focus to Hamburg, talk about the camps and support as we want to share new informations that will concrete our mobilization here.
Tuesday || 20.06 || 19h
In a big round we will share informations at this assembly in the hot period befor the summit in Hamburg.
How is the situation with the camps? What can we do in Berlin? Where are the "Heads ot the States" staying at and where does it hit the best? What do we have to warn and what can we be excited about?
assembly-hall, Mehringhof
Gneisenaustr. 2A || 10961 Berlin-Kreuberg || U7 Mehringdamm
The place is wheelchair accessible. The events will be moderated in German and
English translation will be provided. Please write us an E-Mail if you need any other
translation.
Disez-nous si vous avez besoin d'une autre traduction!